The difference between a good Alfredo and a great Alfredo is the cheese. If you're going to splurge and make this decadent dish, I recommend going for the good cheese, Parmigiano-Reggiano. I know it hurts a bit reaching for a 10 dollar or more little wedge of cheese, but this is one of those times to either go big or go home!
The ingredients are pretty simple in this dish, but each and every one packs a big flavor hit.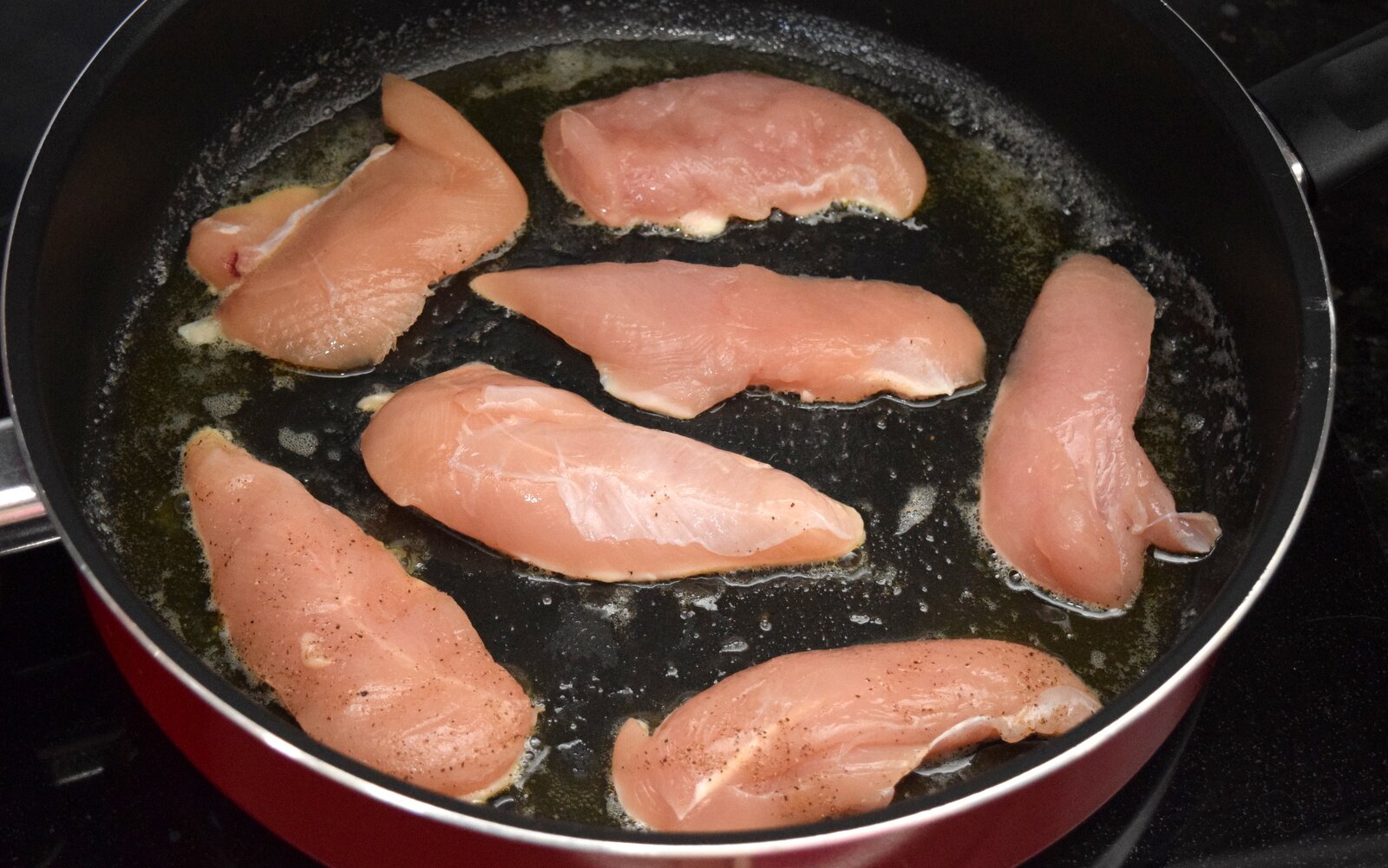 I start by cooking the chicken, seasoned with a salt and pepper, in a bit of butter and oil. I've been using chicken tenders a lot lately, but if you like, just go ahead and use chicken breast. Make sure your pan is hot so you can get a bit of color on the chicken before it overcooks! You can also use already-cooked chicken if you have leftovers, say, perhaps, from a great roast chicken dinner like this one! If your chicken is already cooked, just add it to the sauce at the end.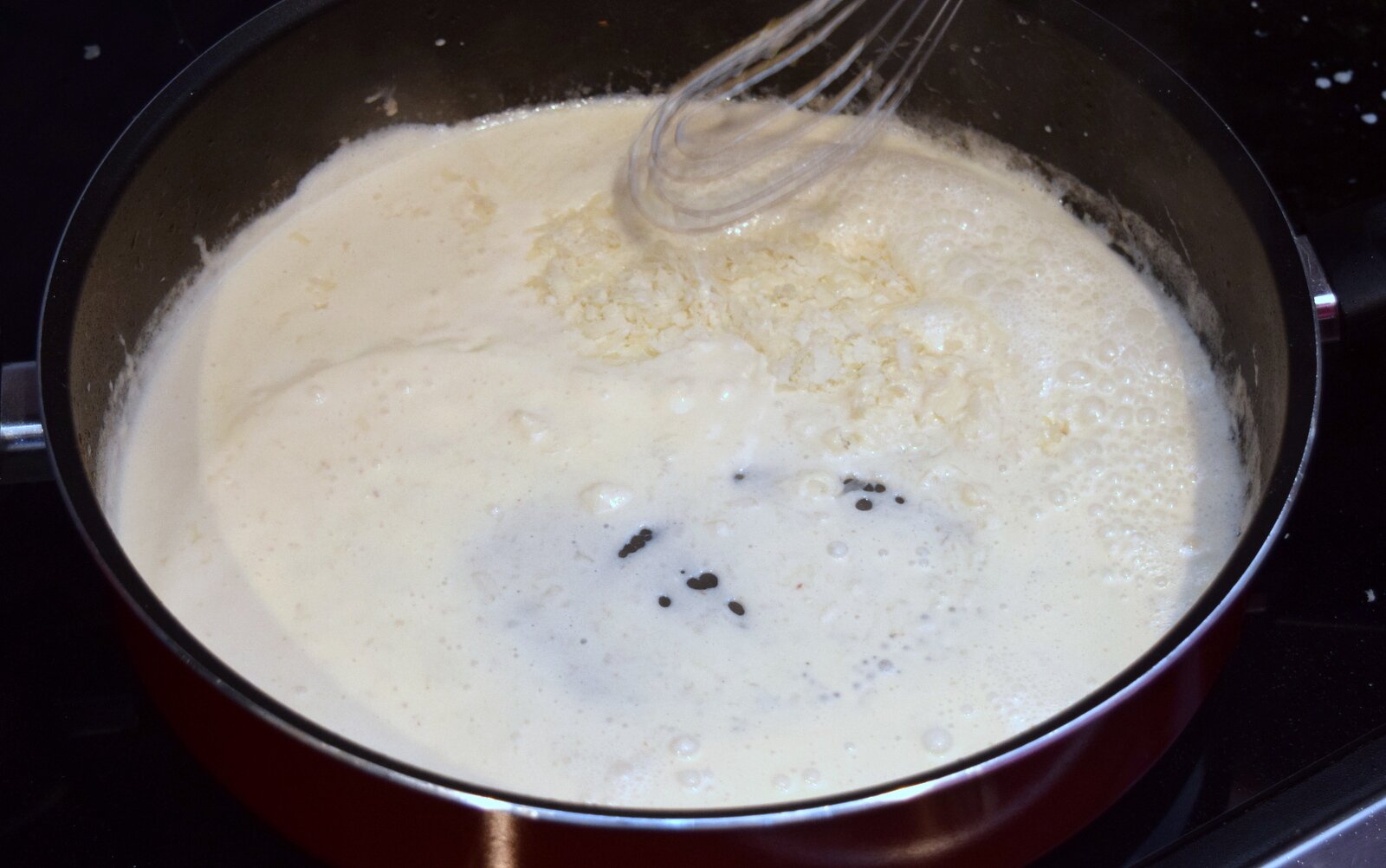 In the same pan, add the cream and butter, bring it to a boil, then reduce the heat and add 1/3 cup of the cheese. Whisk until smooth. Reduce heat and add in the lemon juice, chicken stock and the seasonings. Go easy on the salt as the cheese is quite salty. Always taste as you add the seasonings! Traditional Alfredo just has cream and no chicken stock, but for my taste I find it just a bit too rich (is that possible?), so I add in a bit of stock.
When the sauce has thickened a bit, add in the spinach and cook until the spinach is wilted.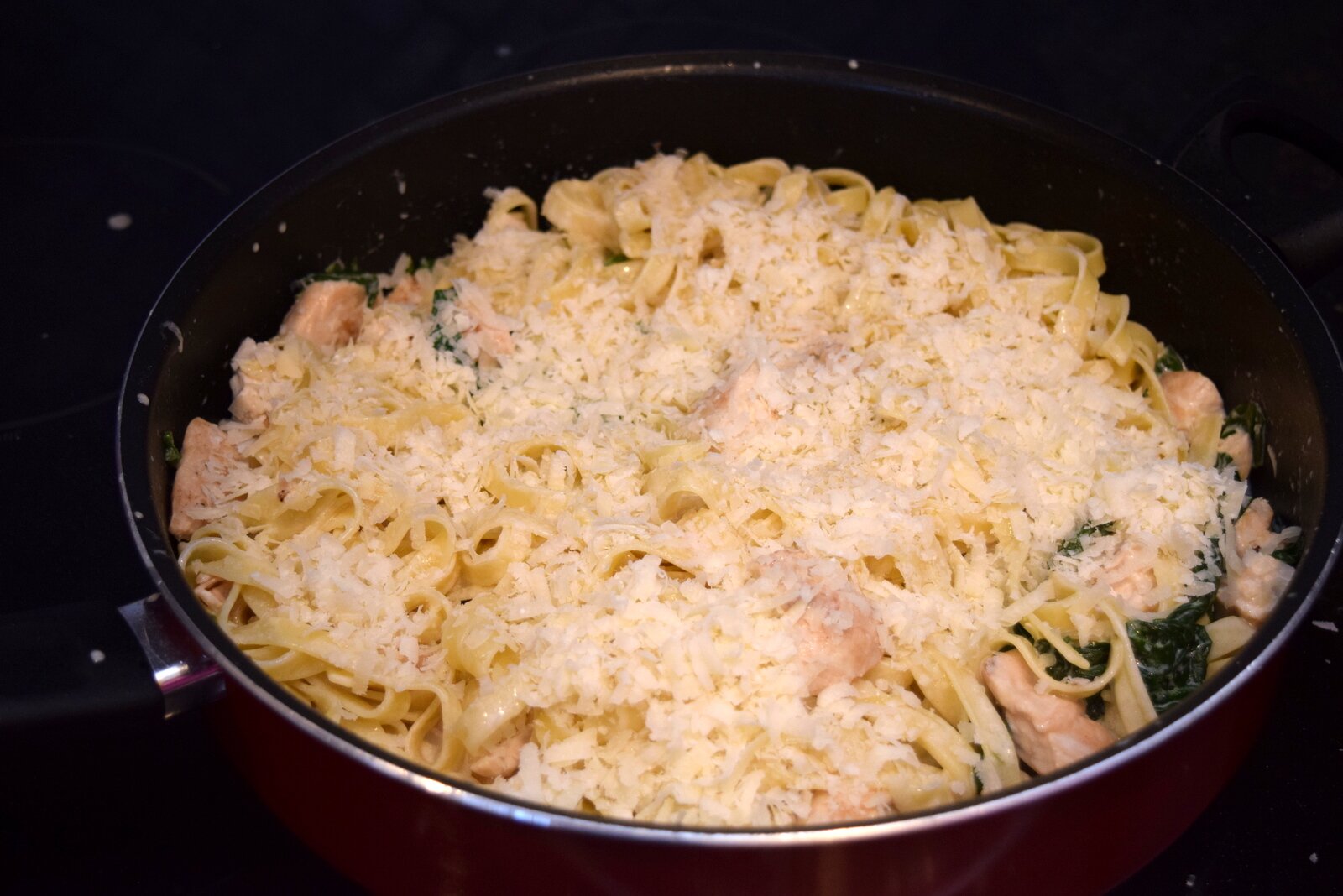 Once the spinach is wilted, I add in the cooked pasta as well as the chicken and remaining cheese. I like adding the pasta right into the sauce because I like how it tastes when the sauce coats the pasta. However, if you like to control the amount of sauce for each serving or you just like how it tastes with the sauce on top, by all means serve the sauce on top. It's all about personal taste.
No matter if you add the pasta to the sauce or the sauce to the pasta, the most important thing is to not let the dish sit around. Alfredo doesn't like to be kept waiting!
Print This Recipe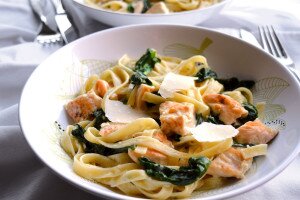 Fettuccine Alfredo with Chicken and Spinach
This super easy dish is both delicious and decadent.
Yield: Serves 4
Ingredients:
For the chicken:

1 pound chicken tenders or chicken breast
salt and peper
1 tablespoon olive oil
1 tablespoon butter

For the sauce:
1 and 1/2 cups whipping cream
3 tablespoons butter
1 and 1/4 cup coarsely grated Parmesan Reggiano
fresh ground pepper and salt to taste (go easy on the salt)
1 tablespoon fresh squeezed lemon juice
1/3 cup chicken stock (or 1/3 cup pasta water)

6 oz Fresh Spinach
1 pound box fettuccine or use fresh pasta

Directions:
In a large sauce pan over medium heat, melt the butter and olive oil. When the oil is hot, but not smoking, saute the chicken strips. It should only take a couple of minutes on each side. Do the chicken in batches so you don't crowd the pan. When chicken is cooked chop it into bite sized pieces and set aside.
Meanwhile, cook fettuccine as directed on package. I usually go for the lower cooking time to ensure the pasta doesn't get over cooked. Drain the pasta well.
I use the same pan for the chicken as for the sauce. If you have burned bits, wipe out the pan with a paper towel. If it's fine, just add it. Then, add cream and butter. Bring to a boil on high heat. Reduce heat to low and simmer for 2 minutes. Add about 1/3 cup of the Parmesan cheese and whisk until smooth. Add pepper to taste (about a teaspoon). Whisk in lemon juice and chicken stock, then add spinach and cook until spinach is wilted. I rarely add salt as the cheese has a lot of salt and the pasta is cooked in salted water but taste and adjust according to your own taste.
Add drained pasta to sauce and toss well. Then add remaining Parmesan Cheese and chicken. Give it another quick stir, then serve right away.
EasyOnTheCook.com