Print This Recipe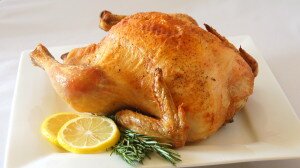 Easy Roast Chicken
Roasting chicken at home is easy and tasty with this simple recipe.
Yield: 1 delicious roast chicken
Ingredients:
1 (5-6 pound) whole chicken
2 tablespoons olive oil
1 lemon halved and juiced
1 medium onion
1 head of garlic
3 generous sprigs of fresh rosemary
Salt and Pepper to taste

Directions:
Preheat the oven to 375 Fahrenheit.
Get up close and personal with the chicken and remove the chicken giblets from inside the cavity. Rinse chicken inside and out and pat dry. Add salt and pepper to the inside of the chicken cavity Stuff the chicken with cut up garlic, onion, rind of the juiced lemon, and sprigs of fresh rosemary. If some of the veggies don't fit inside just put them on the side of the pan.
Brush the outside of the chicken with the olive oil. Sprinkle with lemon juice. Season with salt and pepper.
Roast for about 1.5 hours (I start checking at 1 hour 15 minutes) or until a thermometer reaches 165 at the thickest part of the thigh (but not touching the bone). The juices will run clear and the joint of the drumstick will move freely.
Remove chicken from pan and rest for 30 minutes before carving.
Enjoy!
EasyOnTheCook.com