"This is good soup!" said my daughter when I first started making it for my family. "What do you call it?"
I thought for a second and then said, "Pizza Soup!"
"Pizza Soup?"
"Yes, Pizza Soup!"
The idea of Pizza Soup doesn't seem so far fetched when you look at the individual ingredients of a deluxe pizza; they're all good soup fixin's! Pizza Soup has quickly become a favorite with my family. The best part is it's quick and easy to make and there's nothing like the aroma of a simmering soup to make a house feel warm and cozy! I also love a meal that can be cooked in one pot, it keeps things easy on the cook, as well as the clean up crew.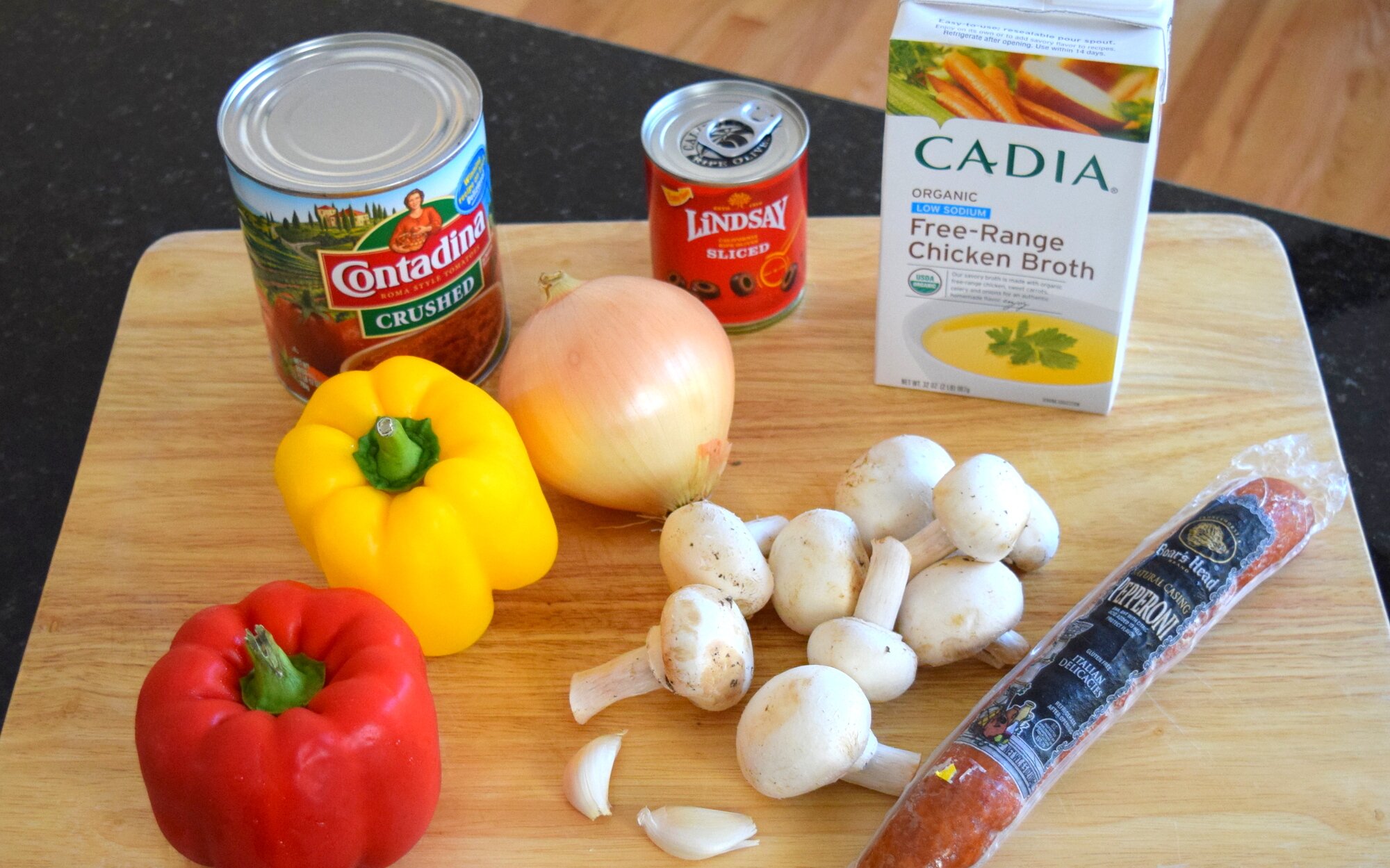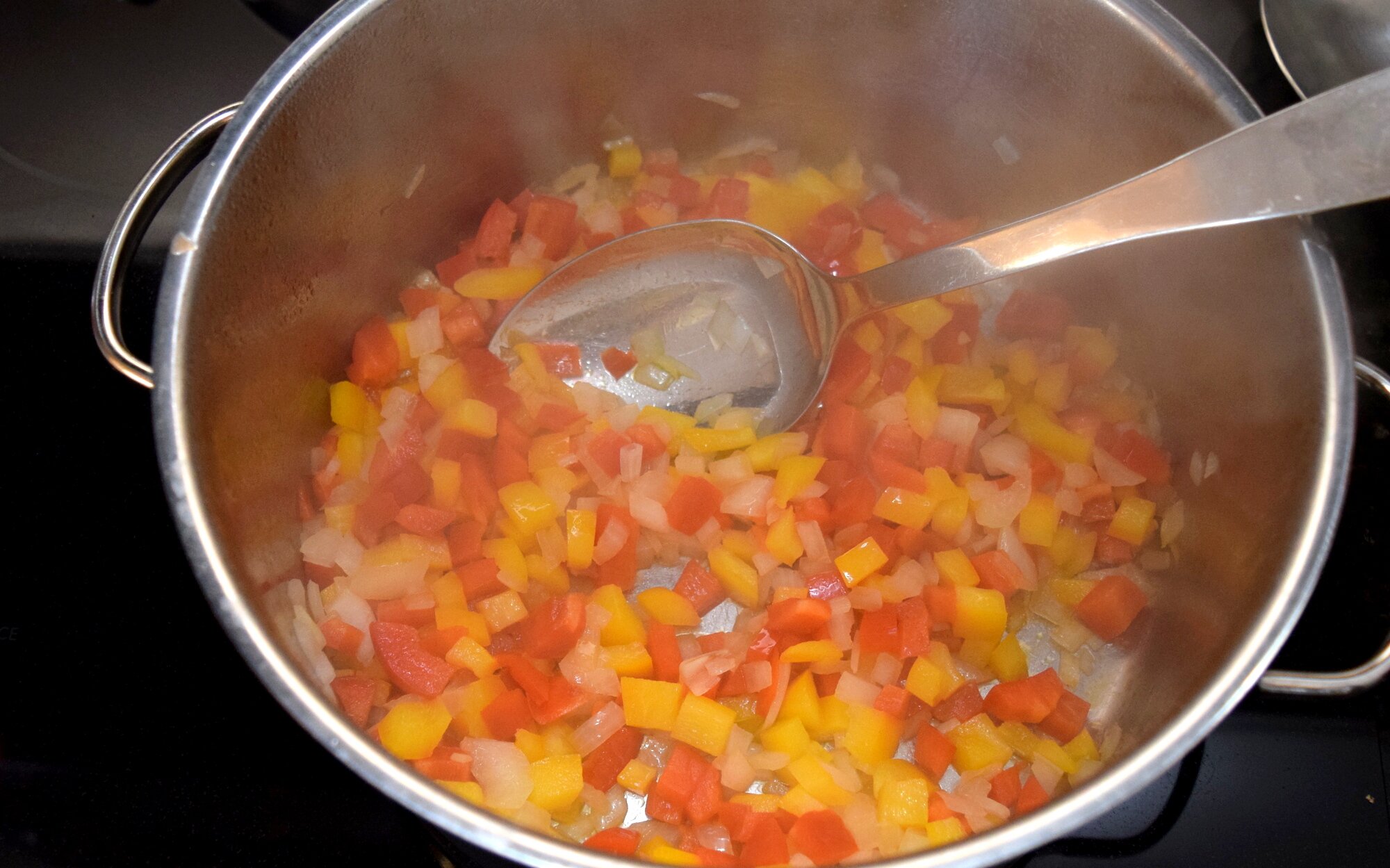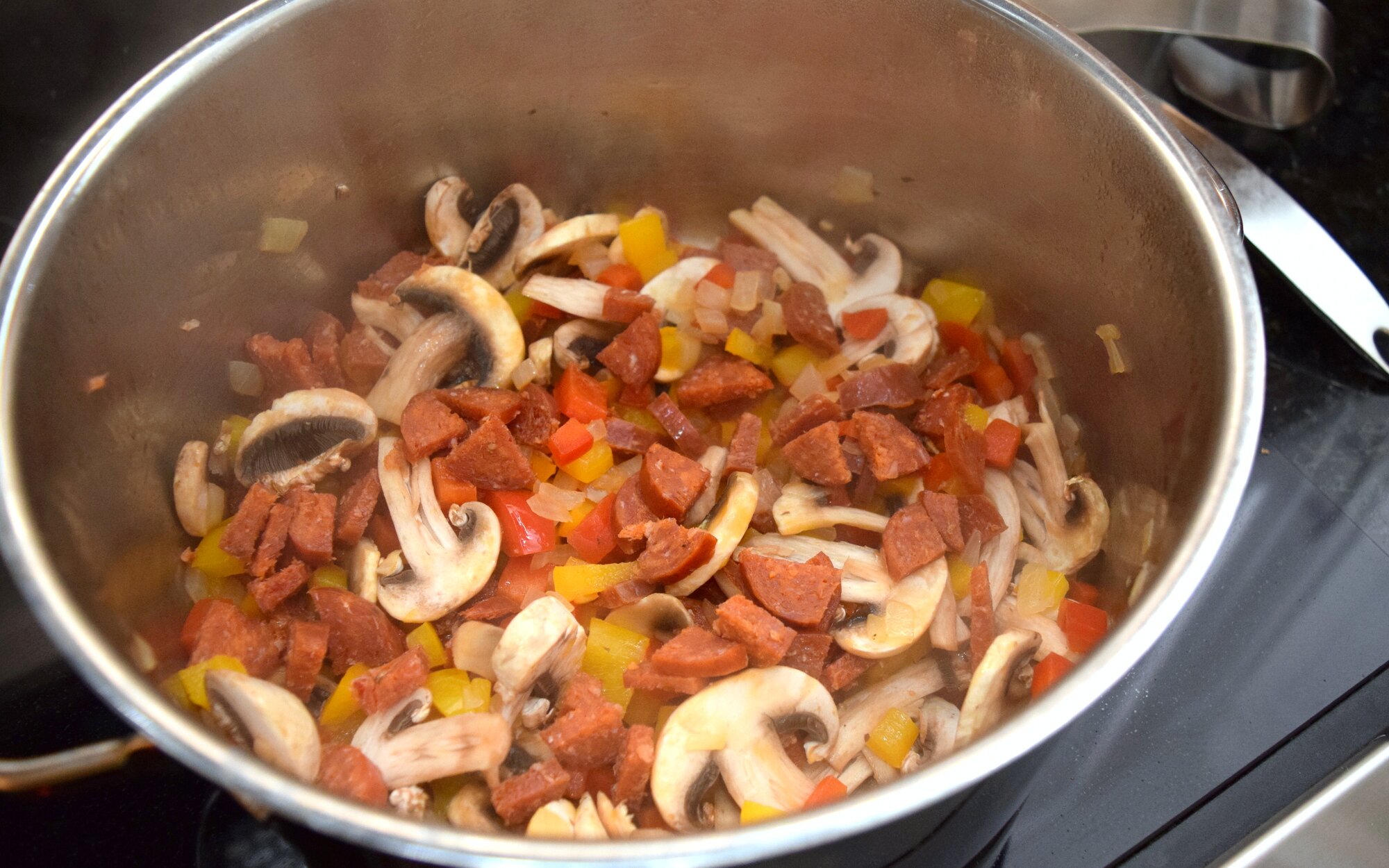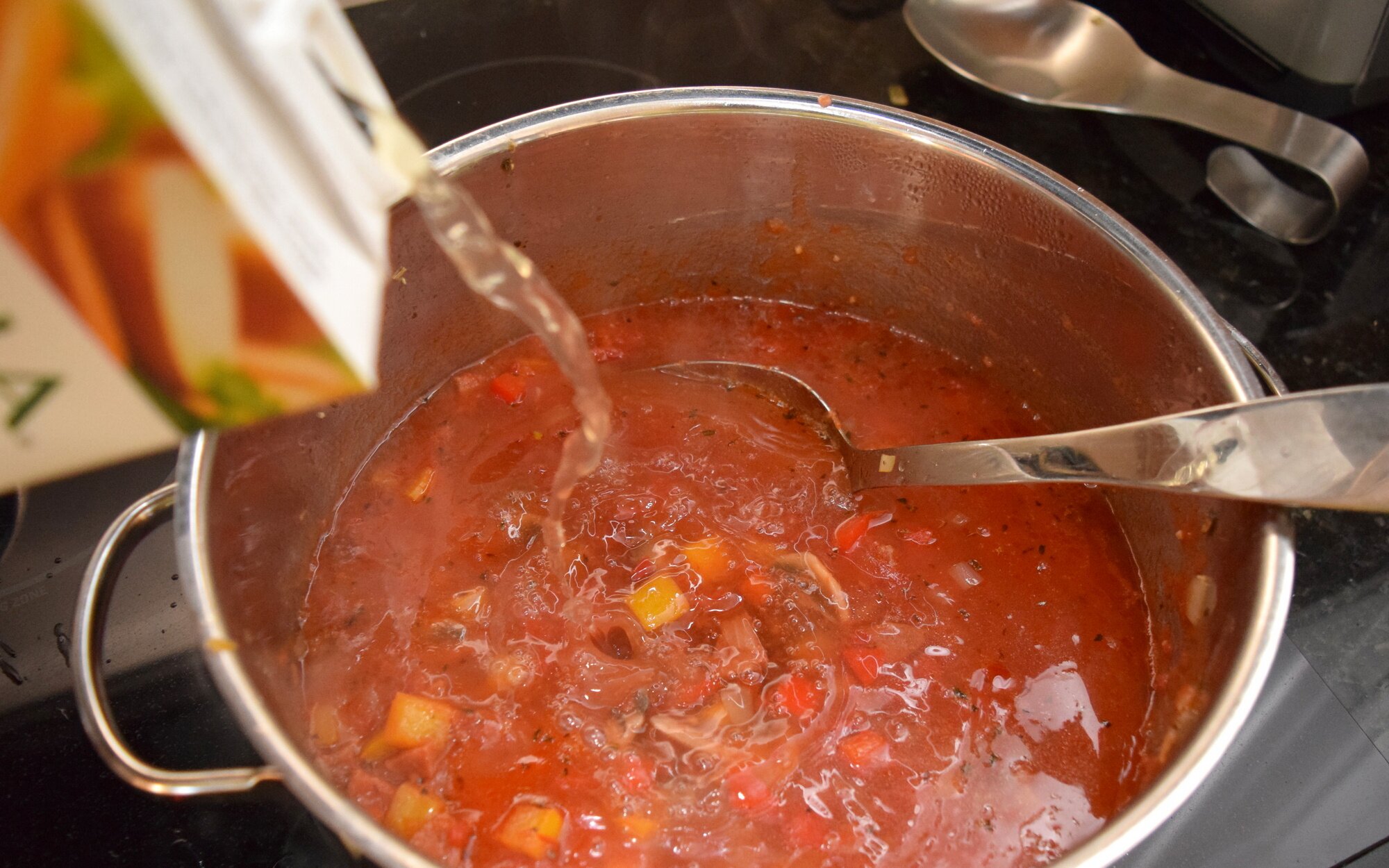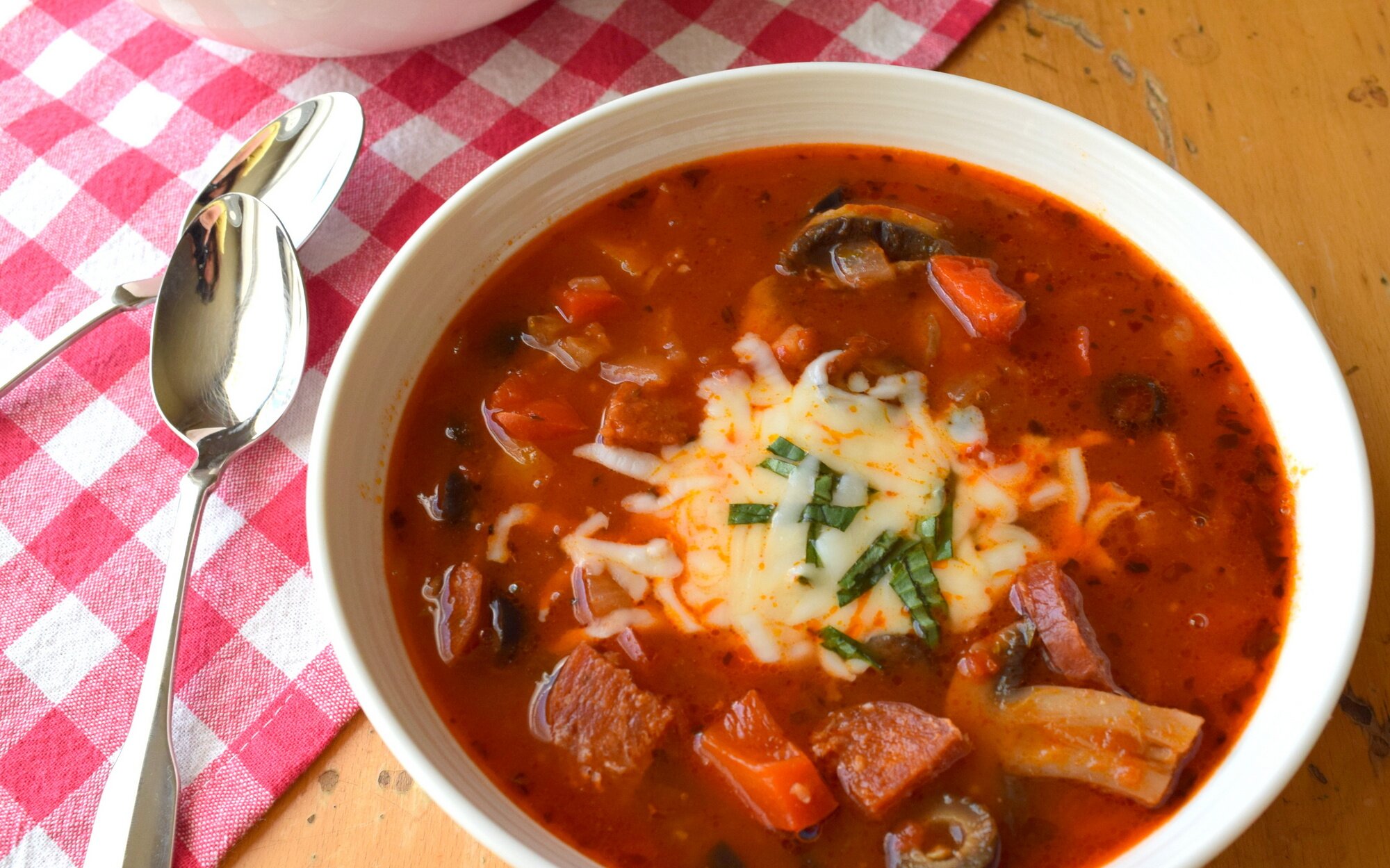 Check out more soup recipes HERE
Print This Recipe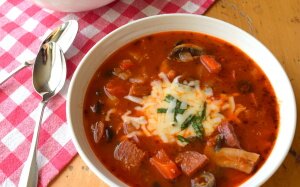 Deluxe Pizza Soup
A hearty quick and easy soup, with all the flavors of your favorite deluxe pizza.
Yield: 4-6 servings
Ingredients:
1 tablespoon olive or grape seed oil
1 onion, finely chopped
2 cloves garlic, minced
1 red pepper, finely chopped
1 yellow pepper, finely chooped
5 oz mushrooms sliced
6-8 oz pepperoni
28 oz can crushed tomatoes
6 cups chicken stock
2 teaspoons dried oregano
3.8 oz can of sliced olives
1 Parmesan rind (if you have one)
1 teaspoon pepper (or to taste)

Toppings:
finely chopped fresh basil
shredded mozzarella

Directions:
Heat oil over medium heat in a large soup pot and add onion, garlic, red and yellow pepper and cook for 3-4 minutes or until onions are translucent and veggies are beginning to soften. Add in pepperoni and mushrooms and cook for another 2-3 minutes until mushrooms are soft.
Add in tomatoes, chicken stock, Parmesan rind, and dried oregano. Season with pepper. Before you add in any salt be sure to taste as the tomatoes and chicken stock can be salty enough on their own.
Let simmer for 10 - 30 minutes. Five minutes before you're ready to serve it, add in the olives. Ladle soup into bowls and top with basil and shredded mozzarella to serve!
Enjoy
EasyOnTheCook.com