It was one of those memorable meals. We were at the tail end of a summer trip through the maritime provinces of Canada, staying at the historic St Andrews Hotel in New Brunswick, just a stone's throw from the bay of Fundy that boasts the highest tides in the word. The waiter was describing one of the most delicious sounding beef short ribs ever. Slow braised premium beef short ribs, finished with a rich Canadian maple syrup glaze. I was hooked. Didn't even have to look at the menu, I knew what I was having. My Mom decided she would have the same thing. Not because she thought it sounded so fabulous but because there was a lot of seafood on the menu and she doesn't like seafood. The wrench in my plan occurred when the apologetic server returned to say there was just one order of the ribs left. Drat. The problem is, I'm a good girl, I let my mom have the ribs. I am not sure what I had, it could have been a toad sandwich on stale bread. I just don't remember. My eye was on the ribs that got away.
In the years since, I have tried recreating those ribs many times, but I just couldn't get it right. It wasn't until our trip to Gordon Ramsay's Steak just this past summer, I realized what I might be doing wrong. I was using tomatoes in the braising liquid and Gordon uses wine; maybe the wine was the difference? Fast forward to a few weeks later when some good friends arrived for dinner at my house with a bottle of red and a bottle of white wine. What was I to do with a leftover half-bottle of red wine? Make braised ribs of course!
The result was amazing. Tender, flavorful, melt in your mouth ribs with a rich sticky maple glaze. Oh my!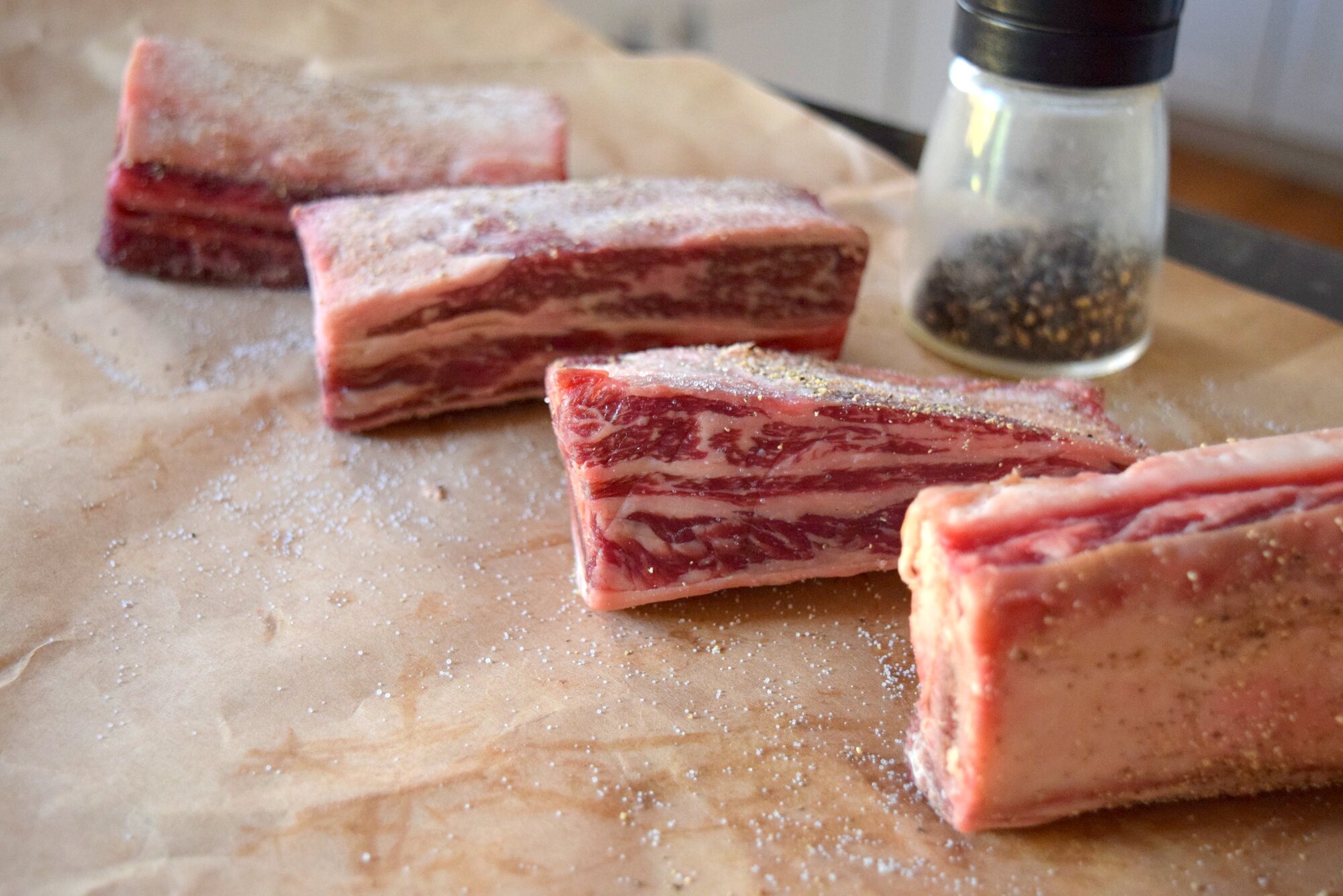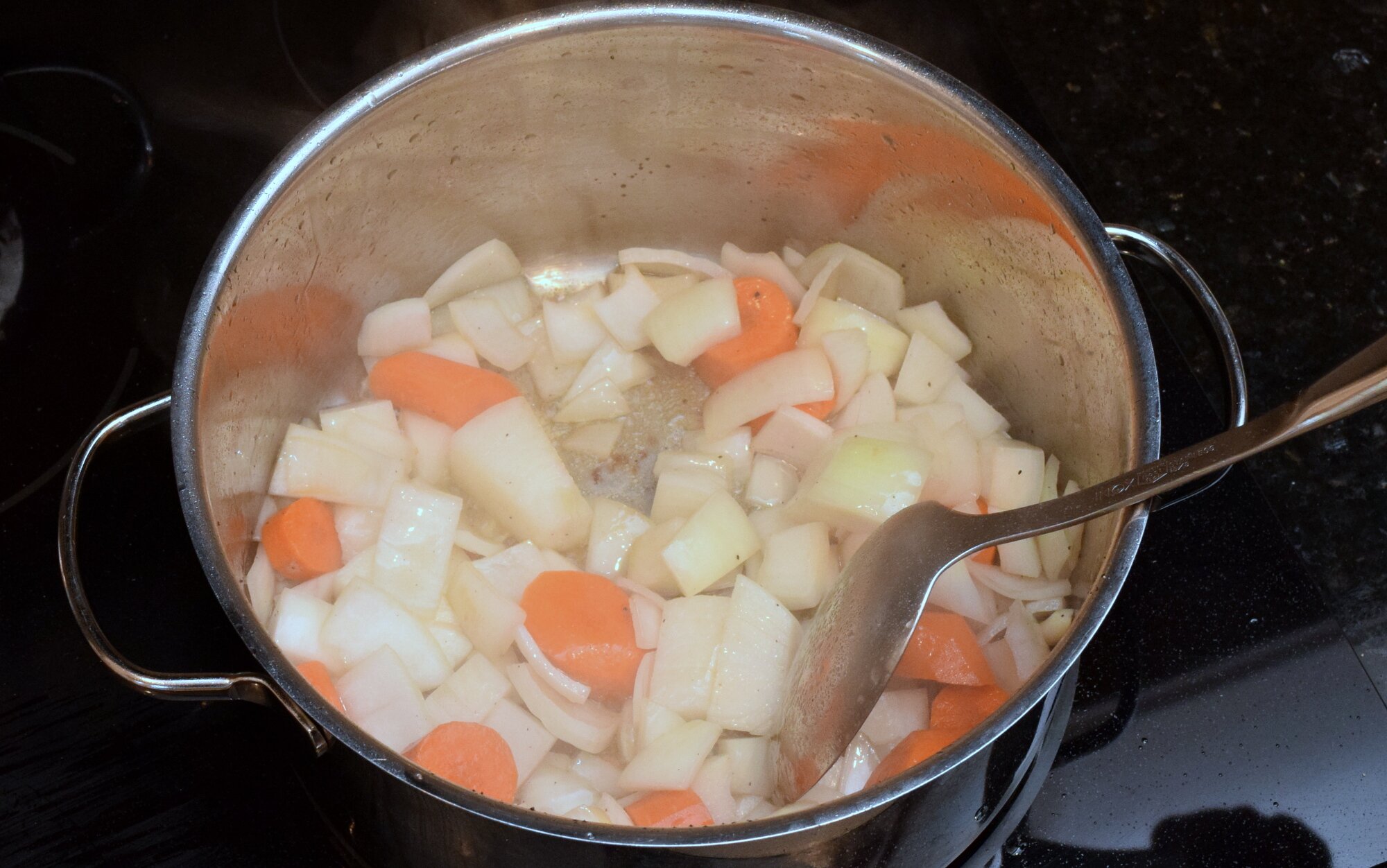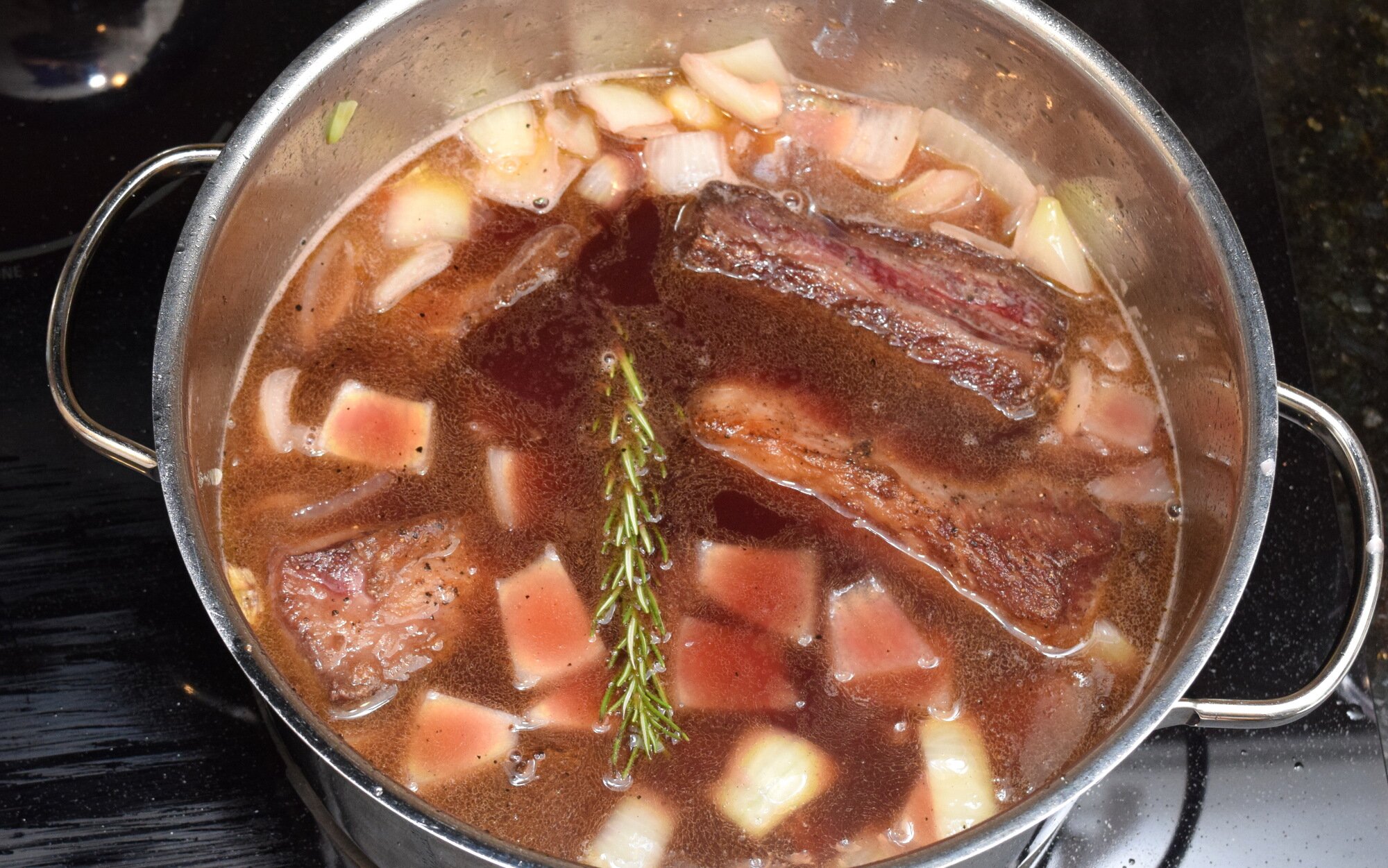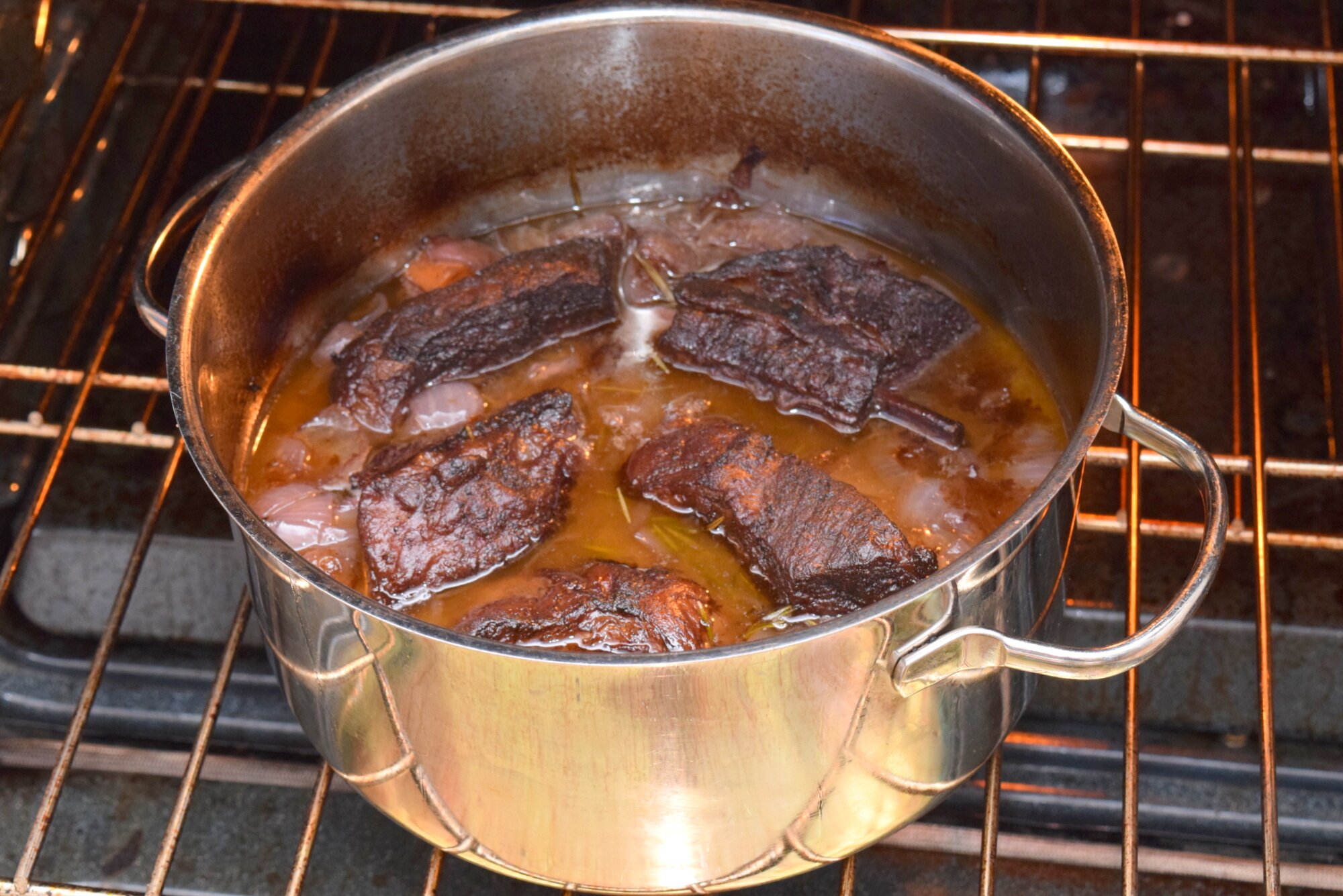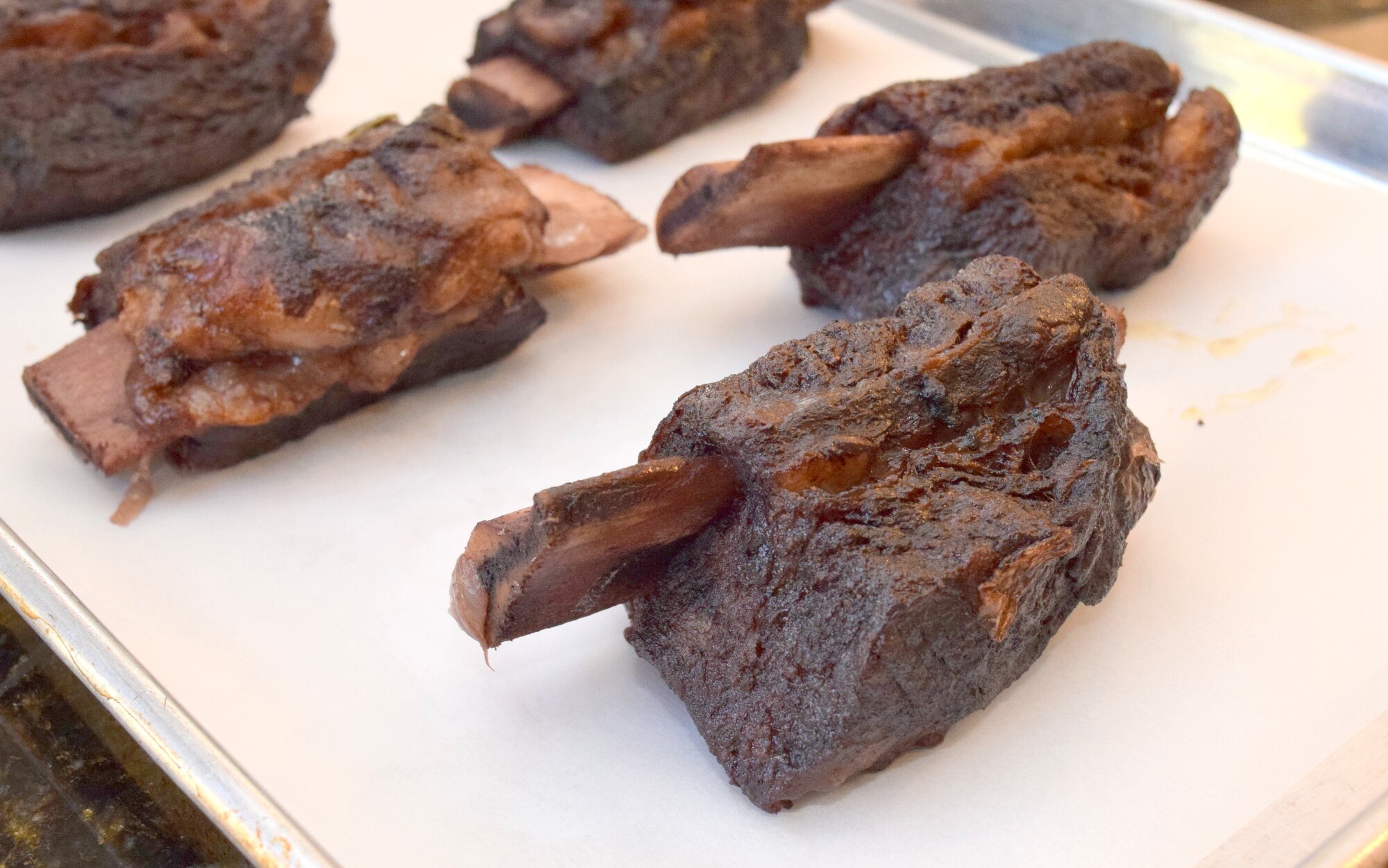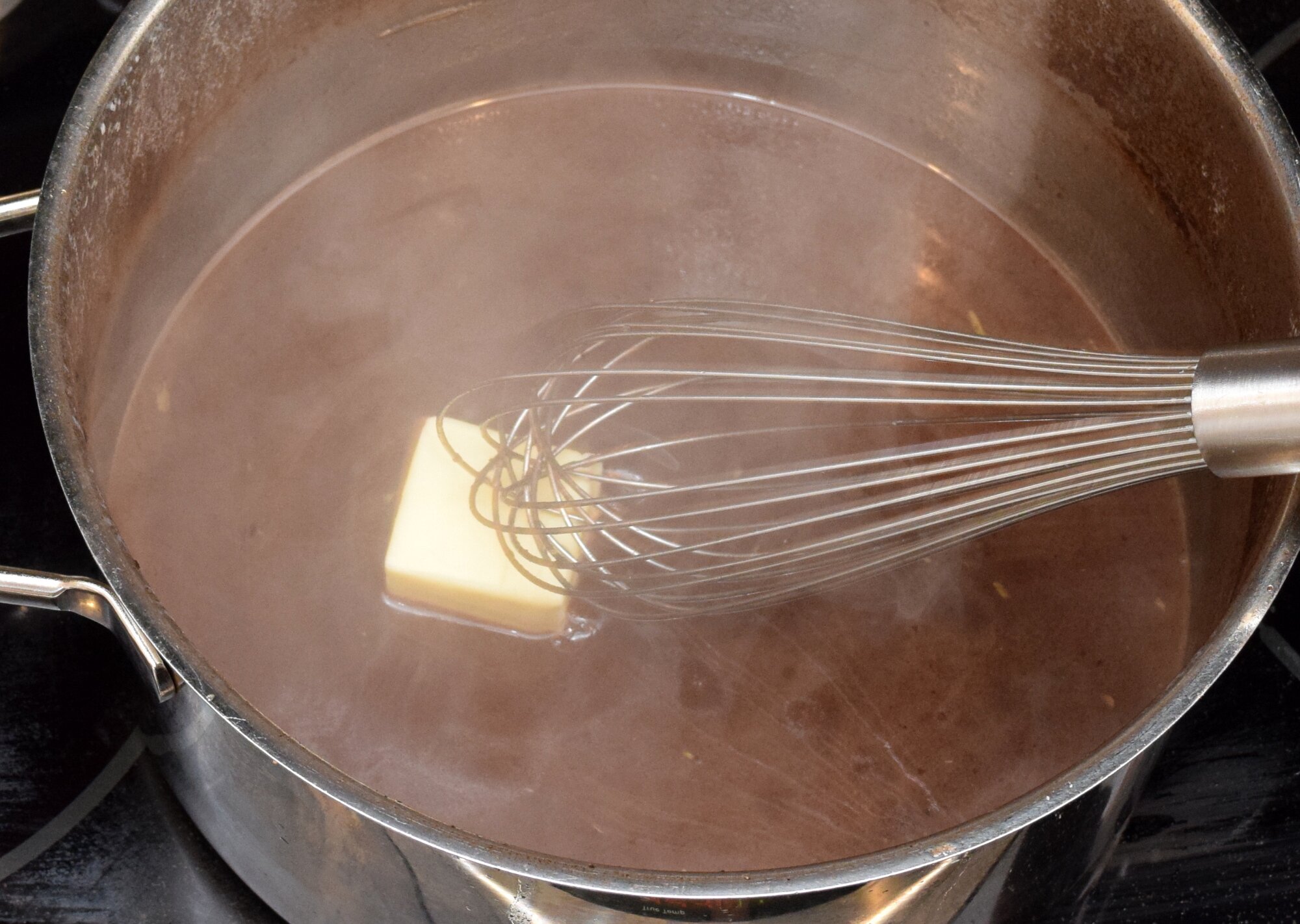 Print This Recipe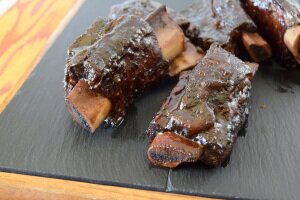 Braised Beef Short Ribs with Maple Glaze
Delicious braised short ribs are finished with a rich maple glaze.
Yield: Serves 4
Ingredients:
4 -5 pounds beef short ribs
2 tablespoons cooking oil
salt and pepper
2 medium onions
2 carrots
1 sprig fresh rosemary
2 cups red wine
2 cups low sodium beef broth
1/4 cup maple syrup
2 tablespoons sriracha
2 tablespoons butter


Directions:
Preheat oven to 350f.
Pat the ribs so they are dry, then liberally apply salt and pepper. Heat a large dutch oven on the stove and add 2 tablespoons cooking oil. In batches, sear or brown all sides of the ribs until they are well browned. Transfer ribs to plate.
Remove all but one tablespoon of oil from pot and add the coarsely chopped onions and carrots. Saute for three or four minutes until onions begin to soften. Then add wine and beef broth. Add the ribs to the mixture and top with the sprig of rosemary. Cover pan and place in oven. After 45 minutes turn ribs, then cook for another 45 minutes. When finished ribs should feel very tender when pierced with a fork. Remove from cooking liquid and set aside.
Strain braising liquid to remove veggies. At this point you will want to skim the fat off the braising liquid, if you have time cool the liquid it will be easier or use a fat separator if you have one. Return pot with braising liquid to the stove top and on medium heat simmer liquid until reduced by half. Meanwhile take 1/2 to 1 cup of the cooked onions and puree in a blender (use a little of the braising liquid if needed) When braising liquid is reduced by half and has thickened, add the pureed onions. Taste the sauce after you've mixed in about half the onion and see if it needs more and add more accordingly. Stir in maple syrup. Add one tablespoon of the sriracha, taste, then see if you want to add the second tablespoon. When sauce is seasoned to your liking, remove from heat and stir in the butter to finish.
Add the ribs back to the pot to coat all sides with the glaze, then transfter to a baking sheet. Spoon more of the glaze on top of the ribs. Roast in a 400 degree oven about 15 minutes or until glaze has caramelized on the ribs. Remove from oven and serve.
ENJOY!
EasyOnTheCook.com