Mmmmmmmm, delicious guacamole! It tastes great, and it's good for you: it's the perfect food combination! Avocados are a great source of monounsaturated fat (which is thought to be cholesterol-lowering). It's also a great source of protein and low in sugar content, and, as an added bonus, it's packed with fiber! But enough of that "good for you" stuff– it just tastes yummy! In most guacamole recipes the avocado is mashed, but at our house we've found we like a chunky guacamole so I mash half the avocados and dice the other two. Remember, guacamole isn't just for chips any more; it's great in a salad, in tacos, and on top of scrambled eggs, and served in a lettuce cup, it's mean in itself.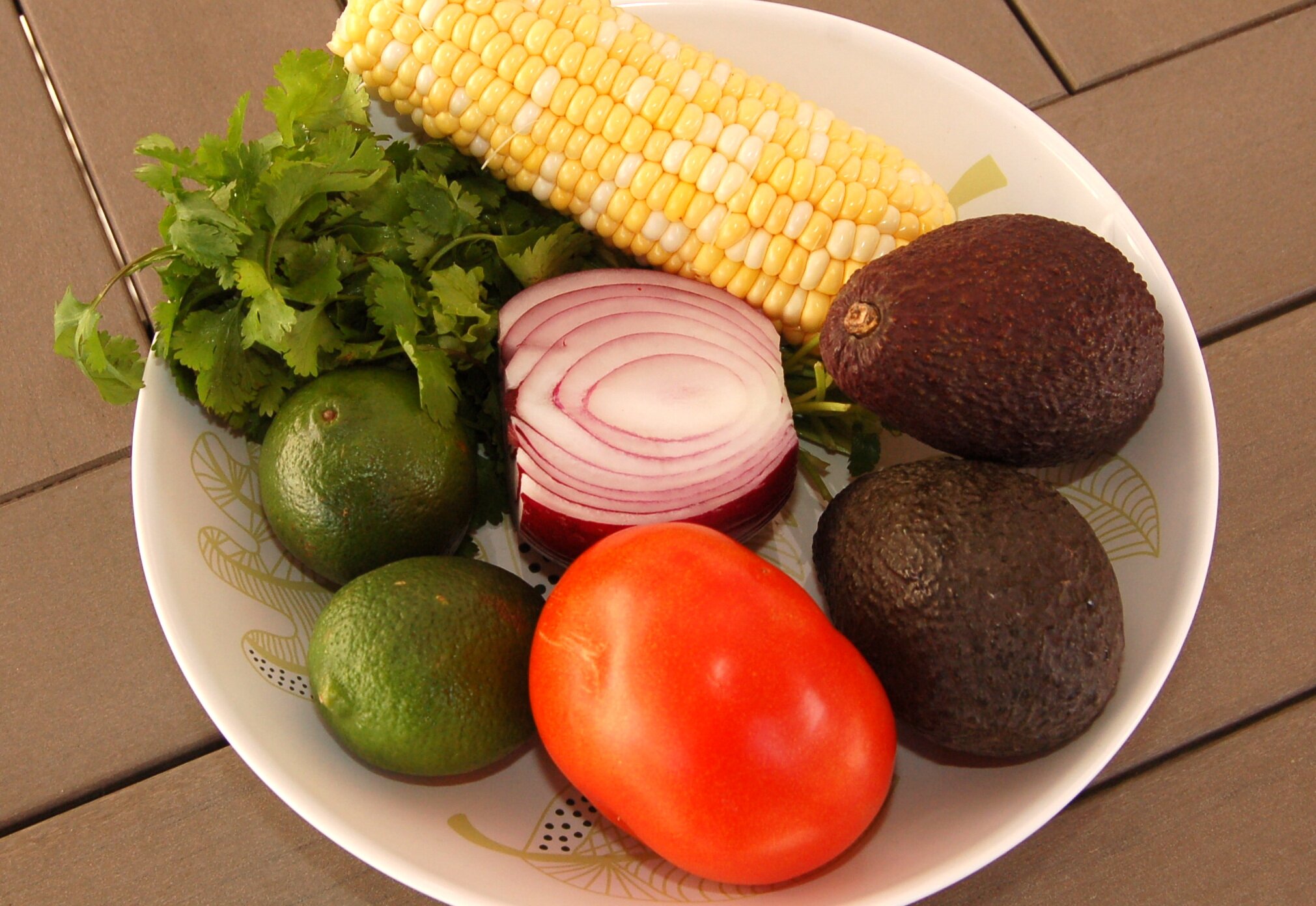 Don't you just feel healthier looking at the delicious ingredients?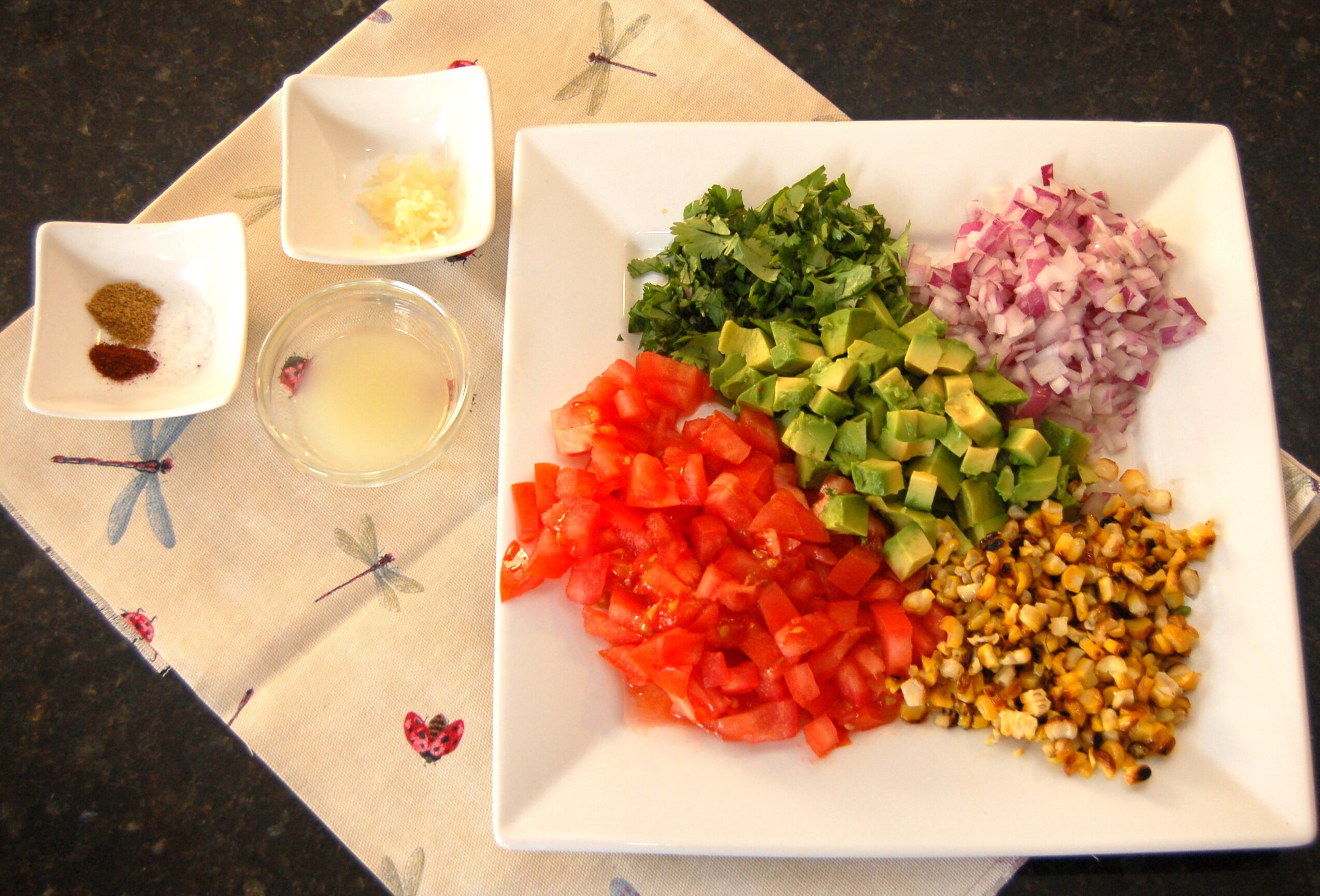 Chop up the veggies and add a few spices and you've got some oh-my-goodness-doesn't-this-taste-fabulous guacamole!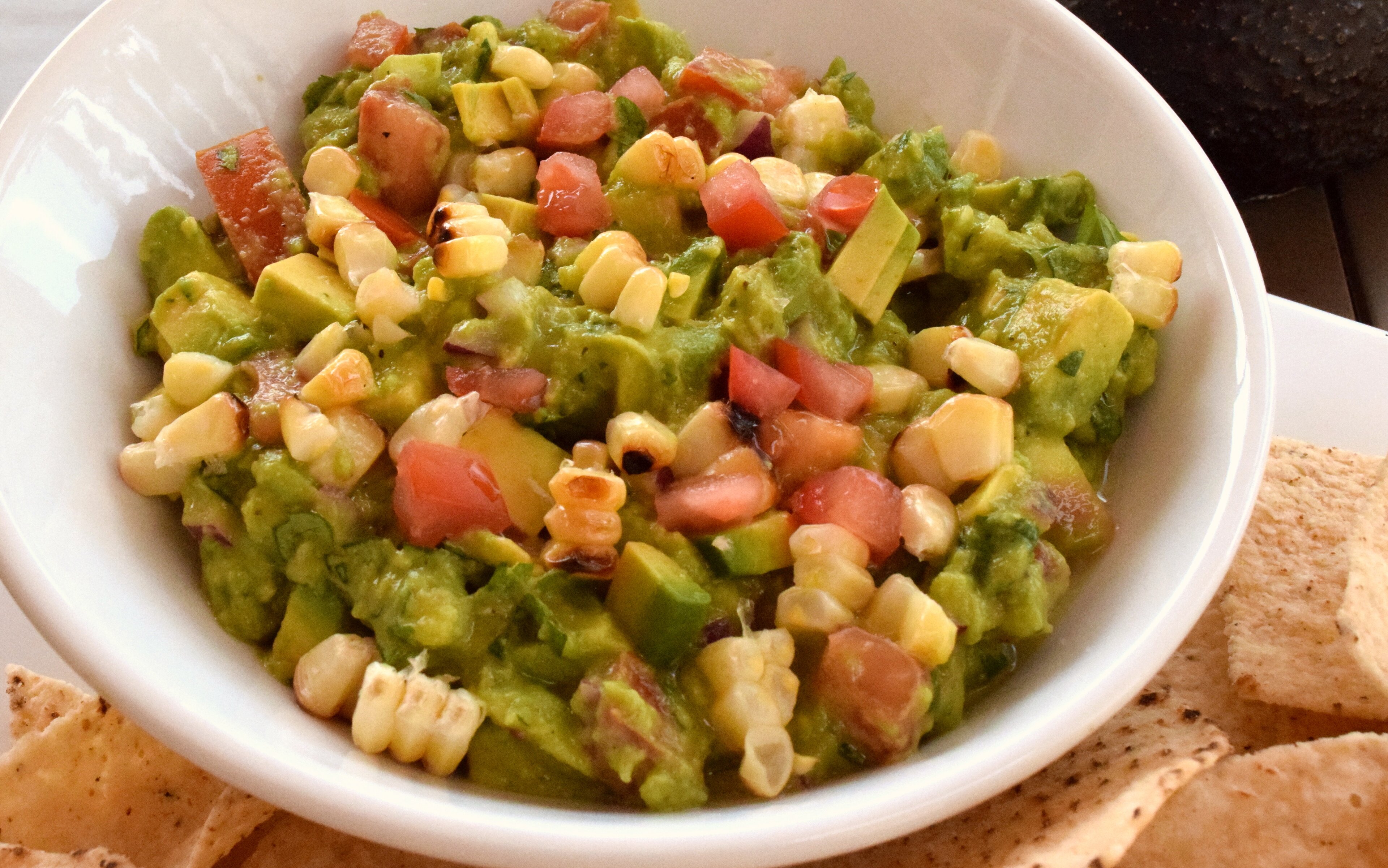 Print This Recipe
Easy Guacamole with Tomatoes and Grilled Corn
Easy and delicious homemade Guacamole.
Yield: about 4 cups
Ingredients:
Juice of two limes (about 1/4 cup)
4 ripe avocados
2 ears of roasted corn
1/4 cup of purple onion
1 medium diced tomato
1/4 cup chopped fresh ciltrano
1 clove minced garlic
1/2 to 1 teaspoon salt (to suit your own taste)
1 teaspoon fresh ground pepper
1 teaspoon cumin

Directions:
Cut avocados in half, remove pit. Mash 2 of the avocados in a large bowl then dice the remaining two avocados and add to bowl. Next, sprinkle with fresh lime juice to prevent browning. Be sure to stir to make sure all the avocado is coated in the juice! I like guacamole to be really tangy, but you might want to start with just 2 tablespoons of the lime juice, taste, then add more to suit your own taste.
Next, add roasted corn (see tip below), onion, tomato, cilantro and spices. Again, you might want to start with just a half-teaspoon of salt and add more to suit your own taste. Good cooks taste as they go!
Now your super delicious guacamole is ready to enjoy!
If I am not serving the guacamole right away, I store it in a ziploc bag and suck the air out using a straw and keep in the fridge. I have had it last 24 hours in the fridge without browning using this method. But this guacamole is so good it rarely lasts that long!
* To grill your own corn simply brush corn lightly with olive oil and place on a hot grill. Turn every 5 minutes until all sides have a nice char. Slice corn off the cob with a sharp knife.
I have also tossed frozen corn with a bit of olive oil, spread on a cookie sheet, and roasted in the oven for this recipe. It works well in a pinch!
EasyOnTheCook.com