"I come from a family where gravy is considered a beverage."
Erma Bombeck
Truth be told I don't make gravy very often.  It's a treat.  I remember one day a few years ago when I was roasting up  a chicken to make chicken salad I just couldn't toss out those delicious pan drippings and decided to make me some gravy.  It was that same day I found out that the love of gravy must be genetic as my kids took to it like peanut butter to jam.   It's pretty easy to make, if you know a few simple tricks!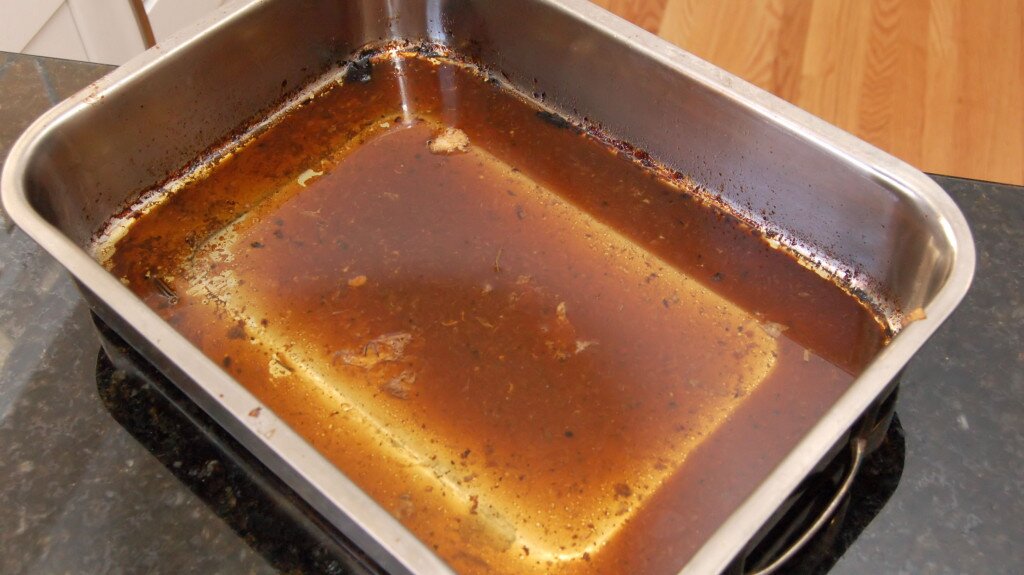 When you are finished roasting your chicken (or other meat) and you've taken it out of the pan to rest, you should be left with something that looks like this, a pan of flavor!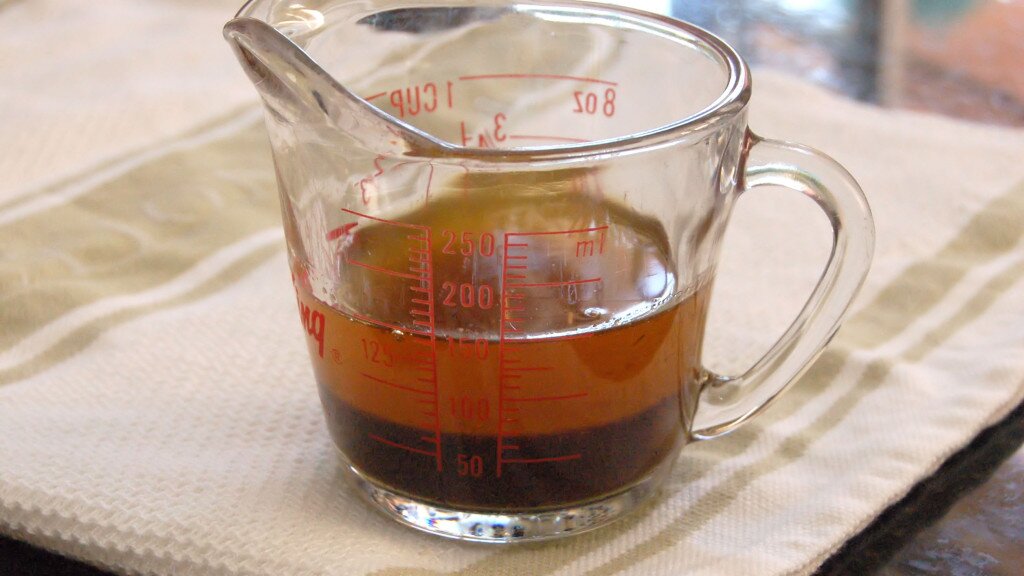 I pour the pan drippings into a measuring cup so I can skim some of the fat off.
It's pretty easy to skim the fat as it rises to the top in seconds.   Here I used a turkey baster but you could also just use a spoon.  I used to have a fat separator like this but I dropped it on the floor and it broke.  And yes it was full of delicious pan drippings!  It was a sad day.
Now I add 3 tablespoons of the fat back to the pan.   You'll notice that I didn't clean the pan or anything. It's not because I am lazy but because those little brown bits on the bottom are little packets of flavor.
To the fat I add 3 tablespoons of all purpose flour.
Now over medium heat I whisk the flour and the fat together.   The mixture is called a Roux.   You need to cook the flour for a couple of minutes.  Why? Because uncooked flour tastes bad!  The mixture will also brown and it will add a nice flavor and color to your gravy.
This is just regular store bought chicken stock but to bump up the flavor I added in the onions that I roasted with my chicken.  I also add in the rest of the pan drippings with the fat removed. You might also see the chicken neck in there.  I roasted it to give it a nice color and that nice caramelized flavor.
Remove your pan  from the heat and add in 3 cups of chicken stock.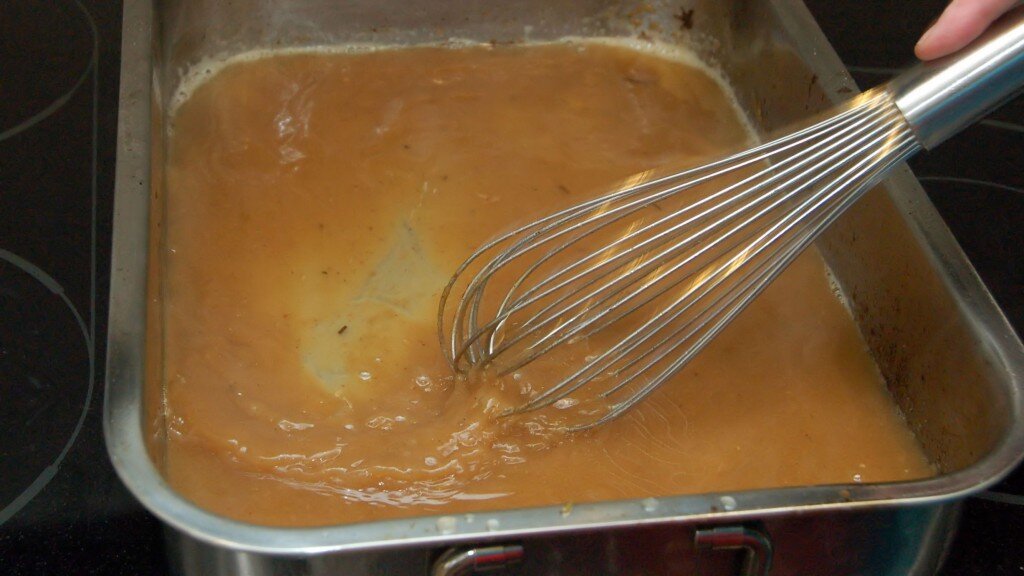 Now start whisking like a woman possessed to mix up the Roux and the chicken stock.  Once the two are mixed together. Return pan to heat and continue to stir.  Let the mixture bubble and thicken. You'll want to add any drippings on the bottom of the plate that have collected when your chicken rested. Finish with salt and pepper, tasting as you add.
And there you have it!  Gravy!   You'll notice in the picture that I don't usually strain my gravy.  I like the little bits and such, it proves it's homemade.
Print This Recipe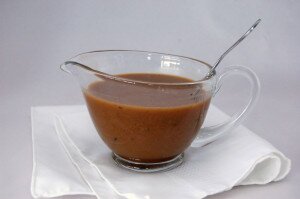 Pan Gravy
Gravy is easy to make if you follow these simple steps.
Yield: 3 cups of yummy gravy!
Ingredients:
3 tablespoons fat from pan drippings
3 tablespoons all purpose flour
3 cups of chicken stock and pan drippings withe fat removed
Salt and Pepper

Directions:
Pour all the pan drippings into a large glass measuring cup. Allow to sit for a minute for the fat to rise to the top. Skim all the fat off the top of the drippings.
Add chicken stock to the remaining drippings to make 3 cups.
Put roasting pan on the stove on medium heat. Add in 3 tablespoons of the skimmed fat back into the pan. Sprinkle in 3 tablespoons of all purpose flour and whisk together to make a roux. Cook flour mixture about 2 minutes until nicely browned. Remove from heat.
Whisk in the chicken stock. Don't stop whisking until the roux and the chicken stock are completely incorporated.
Return pan to heat and stir constantly until mixture bubbles and thickens. Add salt and pepper. Remember to taste as you add so you get the gravy just right!
Enjoy
EasyOnTheCook.com