Hello Quinoa, you've become a friend of mine. Well, not so much a friend, but a nice tasty way to start the day. In case you haven't heard of it, Quinoa is a seed that kind of acts like a grain but is a super food! Apparently it's full of full of protein, iron, fiber and bunch of other good stuff. You can read about it here.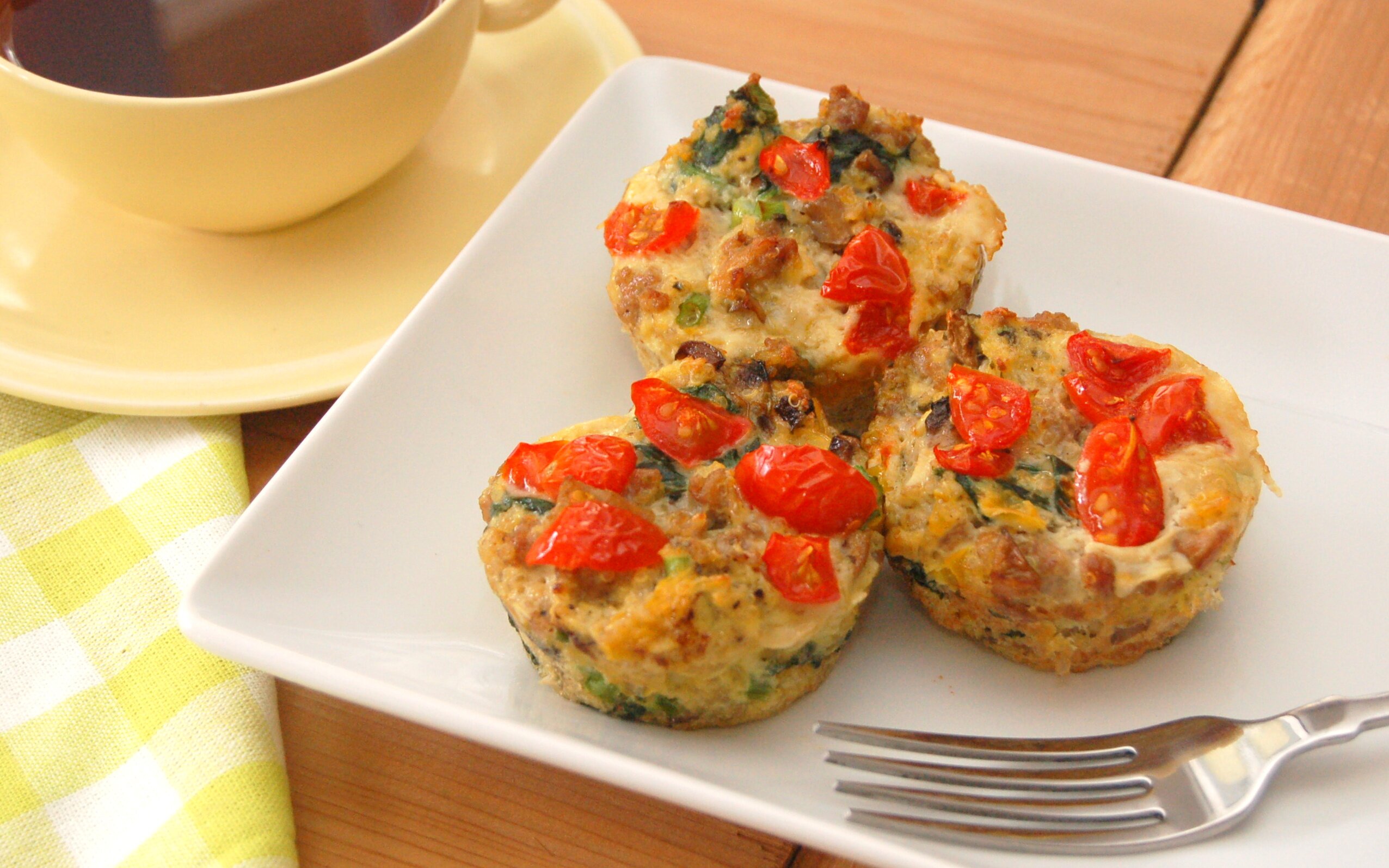 Be sure to also check out this delicious and easy recipe for Taco Salad
Print This Recipe
Egg "Muffins" with Quinoa and Veggies
Breakfast can be easy and healthy with this delicious egg dish.
Yield: 12 "Muffins"
Ingredients:
3 Italian Turkey Sausage links (approx 12 oz)
1 tablespoon olive oil
1 yellow bell pepper, diced
1 cup of diced mushrooms
I cup of cooked Quinoa
2 cloves garlic
4 cups fresh spinach
8 large eggs
4 green onions diced
8- 10 cherry tomatoes quartered
2 teaspoons oregano
Salt and pepper to taste
1/4 cup grated Parmesan (optional)


Directions:
Preheat oven to 350.
In a large mixing bowl crack eggs and add green onions. Set aside.
Spray or brush a muffin tin with oil.
In a large saute pan on medium heat, add olive oil and turkey sausage with the casings removed. Break up the turkey sausage into small pieces and cook through. Add mushrooms and yellow bell pepper. Cook until veggies are soft, about 2-4 minutes.
Now is a good time to taste the mixture, it will depend on the spice mix of the sausage (which can vary) on how much garlic and salt and pepper you need to add.
Add spinach and cook until just wilted, about 1-2 minutes. Mix in the cooked quinoa.
Add egg mixture to saute pan and let the eggs cook for 1-2 minutes without stirring until eggs just barely start to set on the bottom. Remove from heat and gently stir eggs to make sure all ingredients are evenly distributed. Spoon partially cooked egg and sausage mixture in to muffin tin. Top with quartered tomatoes and add just a dash of salt on top.
Bake muffins in 350 degree oven for 15 minutes or until egg is completely set. Check the center with a knife to make sure the egg is solid.
Enjoy!
EasyOnTheCook.com