I like make-ahead Mashed Potatoes, it not that making the delectable spuds is hard, I just don't like dealing with the peeling of potatoes and last-minute mashing on the same day as a big holiday meal. The make-ahead mashers that our family has come to love is made with leeks. Leeks? Yes, leeks! Now before you stop reading and head to another blog, the leeks just add another layer of flavor without messing around with good old traditional mashed potatoes. Give it a whirl, you'll be glad you did.
Saute leeks in butter. White and pale green parts only so you dont get a funky color in your spuds
Always remember to salt your potato water, your spuds will thank you for it.
When making the mashers for a special occasion I will put the leeks and cream in the blender to make extra smooth before adding to the cooked potatoes.
Spread potatoes in a large shallow casserole cover with tin foil (or lid for the dish) and keep in fridge. When ready to heat dot with remaining butter cover and place in oven
Also check out this recipe for Cranberry Relish! Easy and delicious

Print This Recipe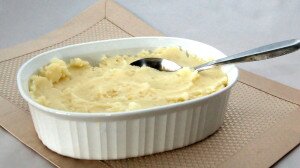 Make Ahead Mashed Potatoes
A delicious recipe for Mashed Potatoes that you can make ahead of time.
Yield: At least 6 servings.
Ingredients:
3 pounds Yukon Gold or Russet potatoes
6 leeks washed well and sliced. (Use the white and palest part of the green only or your potatoes will have a green color)
1 stick butter
1 cup milk
½ cup cream
Salt and pepper to taste
1 tablespoon fresh thyme leaves

For extra richness add 4 oz of cream cheese

Directions:
Put peeled potatoes in a pan of cold, salted water and bring to a boil. Simmer until tender – about 30 minutes.
Meanwhile, in a pan, cook leeks with 6 tablespoons of butter on low heat until very tender. Do not brown the leeks. Add salt and pepper and an optional 1 tablespoon fresh thyme leaves. Thyme goes really well with turkey and gravy! Add in the milk and cream (and optional cream cheese) and bring back just to the boiling point.
Drain potatoes and return to empty pot. Add the milk and leek mixture and mash to your desired consistency.
Spread the mixture in a large shallow baking dish. Cover with tin foil and put into fridge for one day.
To serve:
Preheat oven to 350f
Dot potatoes with remaining butter and bake, covered, in preheated oven until butter is melted and potatoes are warmed through. If your dish isn't deep it should just take about 20 minutes.
EasyOnTheCook.com